(from Guestbook 130) Robert W. Walker said:

What was that mysterious "Rubiyat" place at 51st and Harvard? Coffeehouse? Beat club? My parents clammed up when I asked them about it at the time.


Dave replied:

Yes, I remember the Rubiot, but only from the outside. It was in that little shopping center on the north side of 51st Street just east of Harvard. That was around 1960, and I was told by my parents that it was a place where the beatniks hung out.

At my age then, the only beatnik I had ever seen was Maynard G. Krebs on Dobie Gillis, and I didn't think we had any of them in south Tulsa. I was pretty sure we didn't have any men with beards in south Tulsa around 1960. But I always wondered what the mysterious goings-on might be in the Rubiyat.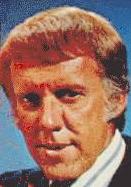 (from Guestbook 130) Lee Woodward said:
Sonny built the Rubiot (on S. Lewis between 61st & 71st) from scratch to be solely for the purpose of presenting jazz in the best light. He had all the big names, from Teddy Wilson, Joe Williams. Every weekend was a headliner. I remember hooking up one afternoon with vibraphonist Gary Burton at the old Trade Winds pool, exchanging bizarre song titles.
Two of his I remember were; "What's that in your pool...Algae?" and "Take my love and shove it up your heart!" I only remember one of mine; "Come on Baby, let's get this straight!" Sorry!
Sonny also promoted up-and-coming talent. One of these was a female singer named Annette Sanders. One of the best I have ever heard. Trust me! I heard she had a deal with Decca. She was here many times and even did a concert at T.U. which was a gas. I later learned that she went back to New York to a boyfriend musician who was an addict. He was kind enough to take her down with him. Just like River Phoenix, a great career move.
Sonny's club was undone by the staff who gave a new meaning to "profit sharing." If a human form of termites existed, they worked there and sadly a great club died. The only "chops" saved were Sonny's. The rest went out the back door.
-----
The Rubiot was on the East side of Lewis and was a substantial building. It had a stage on the south end that faced the "room" which had tables for food and beverage service. Don't know if the building is still there or not.
Also, I may have overstated the bookings when I said every weekend as Sonny's own group held the fort most of the time. I'm sorry I can't remember all his sidemen. I know Kenny Quinn was one, John Rigney was another. Both of these fellows still play in Tulsa. One or two other fellows would alternate sometimes. I recall a bass player from the Philharmonic was also there sometimes.
Anyway, a great venue.

(from Guestbook 130) Mike Miller said:
For some reason, I remember the Rubiot on the west side of Lewis, closest to the River. Going south, I'd take a right into the parking lot. But, hell, those were my drinking days.

(from Guestbook 246) Dan Winders said:
I grew up as a kid on 71st between Peoria and Lewis between 1958 and 1970. I marveled at the back-lit sign on the Rubiot hundreds of times as we passed by it in my grandmother's Rambler American automobile. The Rubiot was definitely on the west side of Lewis.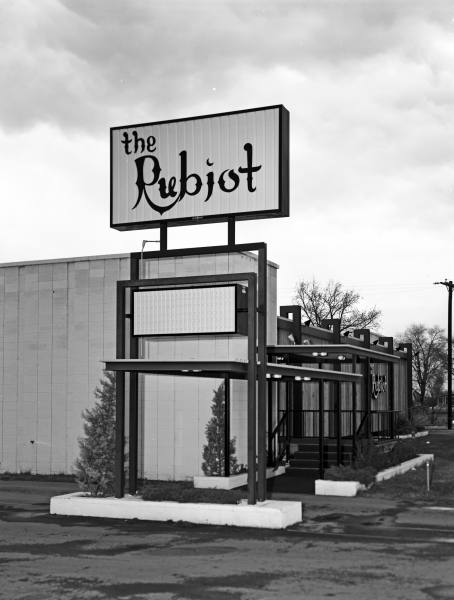 Courtesy of the Beryl Ford Collection/Rotary Club of Tulsa.


(from Guestbook 168) D. Scott Linder said:
In response to a past guestbook entry about Sonny Gray's Rubiot, the Quartet members around 1965-66 were Sonny Gray-piano, Kenny Quinn-vibes, John Rigney-bass, Dave Reynolds-drums and Suzan Gray-vocals. I was a regular at the club and subbed for Dave Reynolds on several occasions. I remember the first tune I ever played with the Quartet was "Witchcraft"...
I have no idea where Dave Reynolds might be these days. He was quite a good drummer, but I believe that all the other members of the Quartet still live in Tulsa(?) I also remember a trumpet player named Tommy Lokey who would sit in on occasion. I really liked his Miles Davis-ish sound. Funny, I remember he used to complain to me about his dental problems, and how it affected his playing.

(from Guestbook 247) El Brazo d'Onofrio said:
Can someone help me fill in a blank? I worked during the summer of '69 at the former Rubiot (and my recollection is that it was definitely on the west side of Lewis as well) trying to spruce the place up enough to open it in a new incarnation as the Herbert W. (blank) dinner theater. I believe the opening production was to have been "The Apple Tree."
I think that the Mike Nicholesque Herbert W. (blank) was affiliated with the University of Tulsa theater department for a time. I dimly recall that the dinner theater did in fact open but it was less than a howling success and closed very quickly.

(from Guestbook 247) Scott Linder said:
The club was on the WEST side of Lewis. The club seemed to appear out of nowhere as you drove past civilization. After all, anything past Memorial was "out in the country" in those days.
As I recall, the club sat idle for some time after Sonny closed it. The gentleman who sought to revive it as a dinner theatre was known as Professor Herbert W. Kramer. I was still in Tulsa at the time, and he contacted me about sound and lighting issues at his new dinner theatre. We met for lunch at Coman's Restaurant, as I recall. He was quite a character and reminded me of film actor S.Z. Sakall (Carl, the headwaiter in "Casablanca"). I have no idea of his background, how he found his way to Tulsa or what he did while there.
I declined the invitation to become involved with his dinner theatre. I just wanted to remember the Rubiot as it was... Tulsa's coolest jazz club in the 60s.

(from GB 278) ricco said:
The Rubiot building had another incarnation, also... (don't ask me how I know this.)
In the late 60s and early 70s it was a go-go bar, called the Rubi. It was cheaper to take the O and T off the sign than it was to come up with another name. It was quite a fancy place for a go-go bar, and was quite popular for a time. Had live music, and go-go dancers to boot... zowie!