Mike Bruchas - 03/14/99 21:34:56
My Email:jmbruchas@juno.com


Comments:
One more brain dump before I go home. This is a problem with working a 7am-3pm shift on a snowy Sunday....

KTUL's original call letters were???? A station in Salt Lake City later got them assigned to them after KTUL-TV happened.

KTUL studios are on Lookout Mtn. It is named that because: a. You can see the city from there? b. It is owned by Fred Lookout - a Native American Oklahoman? c. On the Jack Morris KTUL News "open", Jack said to the the helo pilot "flying" him to the studio, "Look out! Mountain!". You make the call....

Radio Shack sold their "Tulsa Special" antenna in the 60's and 70's - why? When ABC and KTUL came to dominate the market in the 70's and later 2,6, and OETA moved their "sticks" to Oneta, OK - it was because ???? Who can guess?????


---

Mike Bruchas - 03/14/99 21:03:57
My Email:jmbruchas@juno.com


Comments:
I feel like I am having a 'Nam-like flashback except I never was there! Jude and Jody - argggh! I only lived in T-town from '69-'78 but it seems longer....

Yes - Ike Horn's real name is Eichorn. Also owned Zelbisco (I am not making this up) Ad Agency. Don't know if he was a war hero or not. Verdell Sexton - another ex-KTUL director worked there for a while. Verdell ended up in MacAlester after shooting somebody. That kinda ends any career I guess.

Back to Ike - he owned some cheesy furniture plant in some small dead town in SE OK where he made a lot of the furniture he sold. He cut out major manufacturers that way I guess. Anyone remember where this was?

How many and how far back can the collective we - the readers of this GREAT PAGE - name TulseyTown tv news and weather anchors? Who knows where they are?

The late Cy Tuma was Jack Morris' competition for a long time. Cy started at 6 then Jimmy Leake wooed him to 8 for then big salary (rumored at $25-30,000 a year in 1960's dollars), then 8 pulled him from the air. Some said that because Cy was a polio victim - it gave the wrong image. This is stupid because Cy had polio as a kid and had a successful career as a musician in radio before doing TV news. Leake relegated Tuma to the KTUL announce booth - where several of us worked with him.

I was told Jack Morris surfaced last summer at an ad club meeting in Tulsa. He anchored on 8 for years then went to 2. The old news "open" on 8 had him flying in each night via helicopter and jumping out to go to the newsroom. I was told he was scared bleepless to fly. Where was he before KTUL? What is Jack's REAL NAME?

He was replaced on some of the casts by the much beloved but short tenured Dan Baxter - a former producer there on 8 for a while. Baxter left to go back to med school (I think he was a Nam vet) and is a successful OB/GYN guy in Tulsa. He has helped on the delivery of several friends' kids. There is life after TV. Baxter also produced for Bob Hower when Hower first came back on air.

Sam Stuart was on 8 for a while - where did he go? He was liked.

Bob Brown is a success at ABC - he worked at KOTV after coming back from Nam and before that being "Baby" Bobby Brown on KRMG radio. I think he started there as a high school kid - any one know more on this?

Bob Hower was KTUL programming director - after coming back to Tulsa from WLS-TV in Chicago where he was like asst. programming director, but I can't remember what moved him to dual duty as anchor at KTUL. Any one know?

Bill Pitcock is dead - but where is his brother BOB GREGORY - former CBS reporter then KTUL VP of news? What about the 3rd Pitcock brother (Jim?) who anchored in Little Rock for years?

How about Jenny Johnston, Diane Elliott and all of the blonde weather women of KTUL?

Susan Silver - 8's first female co-anchor of prime time news married Mendes Napoli - who was former news director of the station I mention below. Susan I think lives in SFO now. She was replaced by Barbara Allen from FL - where did Barbara go????

I miss John Hudson and heard about Jerry Webber passing. Both started at 2 when it was what call letter -- then it became what call letter -- then Scripps Howard named it KJRH for K Jack Roy Howard. Amazing how many times it has changed it's name.

Help - my brain needs recharging on TulseyTown TV Trivia!!!!!!

Man, that was quite a discharge. OK...the Channel 2 call letter progression was: KVOO-KTEW-KJRH. The KTEW jingle consisted of a swirl of trumpet notes repeated three times then a white bread choir sang a harmonized KAAAY-TEEEEWWWW! Lest you think me totally insane for remembering this, I will mention that the trumpet figure was played by my high school band director, Denny Kelliher, who demonstrated it to our band class.

Of course, KVOO stood for "Voice Of Oklahoma". KTEW stood for the fact that someone had undoubtedly grabbed up KTWO already.

Remember when Jack Morris started doing his "closer"? Paul Harvey had a filmed commentary at around the same time over on KOTV.

Bob Brown...I worked with his brother for years...I will see if I can get him in on this.


---

Gecko (from an earlier posting to ok.tulsa.general)
Stupidest local commercial: see below


Comments:
While we're at it, can we resurrect those two old hicks from Jude 'n Jody - "Where we love folks!" ...What about Harris Ford - "your cheeper dealer"?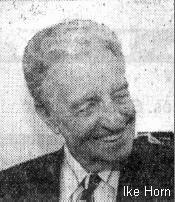 Was that the commercial with the really crude animation of a chicken goose-stepping along?

"Where we love folks!"...I remember aping that one in a cornball accent.

Now, what about the Horn Bros. Furniture Show? They featured local live country music. Pam Van Dyke, a local jazz singer, got her start on it. I think Roy and Candy (of the eponymous music store) were on it too. Horn Bros. was located at 129th and Admiral, where Duke's Country saloon later took up residence. Horn Bros. had a longhorn steer (Ol' Blue) penned up nearby.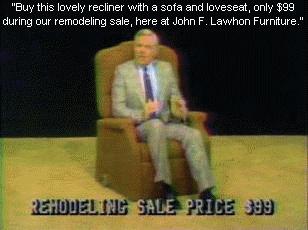 "Ike Horn" was the host. He has the North Carolina Furniture Mart now. His name is M.A. Eichhorn, I believe. He was something of a war hero, according to a newspaper article.

Speaking of furniture, how about John F. Lawhon? I always liked the way he said "sofas and loveseats".








---

Dee - 03/14/99 18:41:38
My Email:mdlundy@flash.net
Favorite Tulsa TV show: Dance Party


Comments:
I also remember Griff's being on Admiral at Pittsburg. When I was at Rogers High School we ate lunch there every day. While talking about hamburgers, does anyone remember "Sandy's" at 11th & Evanston? Or the Library restaurant on 11th owned by Ike Hawkin ? It was the "hippy" hangout in the late 60's.

I remember John Chick having two shows. The John Chick Show was on early weekday mornings and had local "talent". Those included Ted (the Tuff Nut Jeans spokesman) "Teddy Bear" Creekmore and Denise Burris. John Chick also starred as Mr. Zing on the Mr. Zing & Tuffy Show weekday afternoons. They later added Shaggy Dog to the cast.

Does anyone remember the "Betty Boyd Charm School" held annually at Sears at 21st & Yale in the 60's?

How about Dance Party on KOTV Saturday afternoons with the Pepsi Dancers in their white gogo books dancing on pedestals.

And who can forget dance lessons at the Pink Barn or Skilly's. Or Boot's Drive In at 17th & Sheridan; Miller's Drive In on Admiral.


Sandy's Hamburgers at Pine and Sheridan -- my family used to eat burgers there, until one time my mom saw the help fooling around, throwing a rag back and forth at each other. That was our last sanctioned visit. (Added 6/13/2005: My memory failed me. It was Kelly's Hamburgers at that location and where the rag was thrown.)

Boot's, yeah. The Library, definitely. I used to hang out there in the early 70s. The hipness may have partially dissipated by then. How about St. Michael's Alley, which is still there? They served beer with an olive in it.

Didin't Mike Flynn host Dance Party? His web site is listed on the Links page.

Betty Boyd's charm school...I remember a little girl in my neighborhood who went to a charm school--probably Betty's.

---

Don Lundy - 03/14/99 17:49:56


Comments:
Didn't Peter Hardt, the director at KVOO-TV, do the voice over for SEVCO? He had a German accent. SEVCO was just down the street from Channel 2.

Well, the guy who owned Sevco actually appeared on the commercials and said that "Try it, you'll like it, SEVCO" line. Peter (Joseph) Hardt might have spooked the potential customers.

---

Tim S. (from a note posted to ok.tulsa.general)

Comments:
Does anybody remember those commercials for "Sefco" that came on late night TV, usually on some locally hosted movie show? The guy had an accent of some kind. Heck, I don't even remember what "Sefco" was but I do remember that guy saying it!

"Try it, you'll like it...Sevco!" Yes, I remember that one. Sevco sold stereo equipment....I bought a stereo from them and I still have it.

Not sure what the accent was...sounded like eastern European to me.

---

Mike Bruchas - 03/14/99 16:57:34
My Email:jmbrucha@juno.com
Location: Washington, DC


Comments:
Just to add more about Wayne Johnson aka Tuffy at one time on Mr. Zing & Tuffy. He was a good studio cameraman who became one of the most laid back directors at KTUL - no disaster fazed him.

He left KTUL for an agency for a while and shot film then did a short stint at KOTV -- which was doubly confusing because Wayne Johnson (#1) who was a clarinetist in the Bob Wills bands of the 40's was at KOTV as an engineer/audioman.

Wayne #1 was one of KOTV's first directors who in office politics got relegated to engineering under the Duane Harm regime. A joy at the KOTV Xmas party was Wayne #1 playing clarinet or sax and Lee Woodward singing.

Wayne #2 quit the biz and became a welder - working all over the West. He may still live in Tulsa. Wayne #1 - sadly died several years ago....


Nice reminder of Lee Woodward's great singing voice. Thanks for the brief bios of the two Wayne Johnsons...that could have led to a lot of confusion.

---

Don Lundy - 03/14/99 04:44:25
My Email:donald_lundy@mcgraw-hill.com
Location: Bakersfield, CA
Favorite Tulsa TV show: Mr. Zing and Tuffy
Stupidest local commercial: Tuf Nut Live CMs with John Chick, Dick Lermy and Teddy Bear Creekmore
How did you find TTM?: Mike Bruchas, KTUL Alumnus Emeritus


Comments:
Great site!!! A couple of updates... yes,Mike Denny was Shaggy Dog for a while. But the suit was also worn by Tom Ledbetter, who directed at KTUL and taught at TU. Wayne Johnson was Tuffy. Mike is still at CBS Television City and directs Young and the Restless. Has been in Hollywood since 76 or so.

Re: Shock Theater on KOTV in the 1950s. The host was Bob Mills, who also worked the Sun Up program. Bob worked for me in San Diego and, sadly, passed away last year.


Whatever happened to Tuf Nut Jeans?

---

J. Hobson - 03/13/99 21:39:30
Location: Tulsa
How did you find TTM?: email from the webmeister


Comments:
FYI, the man in the TUFFY outfit from Mr. Zing & Tuffy was Mike Denny, a cameraman at KTUL. In the later 70's he went to work for CBS in LA and is still there from what I understand, although it has been a while since I have seen his name on credits (cameraman). He was on the original production team for the Carol Burnett show.

It looks as though several people may have donned the Tuffy outfit over the years. See the note just above this one.

---

B. Hughes - 03/13/99 17:49:07
My Email:okladee@webtv.net
Location: Pharr, Tx
Favorite Tulsa TV show: Mazeppa
Stupidest local commercial: Linda Soundtrak and The Reeves Boys..."If you didn't buy at Reeves you paid too much"
How did you find TTM?: newsgroups


Comments:
Does anyone remember the show "Romper Room" I was on there when I was about 4. Of course I don't remember alot about it...have a picture though..do remember the mirror she used and the Do Bee and Don't Bee. Really enjoy your site...brings back some good memories of Tulsa. Oh the good ole days..not the same anymore.

Here is an excerpt from TVparty! at http://www.tvparty.com/lostmorekids.html:

Romper Room was a pre-schooler that ran in almost every major market in the United States and ran from 1954 until the late Seventies...All of the hosts, many former kindergarten teachers, spent the half hour reading from books to the seven or eight kids o the set, teaching the alphabet, manners and values in a gentle way...Each show ended with the hostess gazing into the 'Magic Mirror' (just a mirror frame) and saying (changing the names each day): "I see Mary and Hank and William and Virginia and Hannah and all of you boys and girls out there!"

Who was our local Romper Room hostess? I watched the show too, but I can't quite remember. Anyone?

---

Mike Bruchas - 03/13/99 16:32:15
My Email:jmbruchas@juno.com
Location: Washington,DC
Favorite Tulsa TV show: JC Penney Xmas Parade or THE JOHN CHICK SHOW or Uncle Zeb!
Stupidest local commercial: Reeves Boys RCA
How did you find TTM?: Former KTUL co-worker


Comments:
A good start - a lot of good people lived and worked in TV in T-Town.

I still have a lot of good friends from TV years there like Jack Hobson at AMR, Scott Blaker, Wayne McCombs, Matt Bunyan at StarShip; Leon Holland, Jack Maynard, & Gene Tincher - ex-KTUL now OETA engineers; Irv Johnson (formerly of KOTV and now at KOKI) and Tom Roberts at Fairview AFX.

I first watched Mazeppa while at TU as a student (Mazeppa - we learned was the first stripper's name) then worked with Gailard at KTUL during his brief tenure there doing movies. He used to hold court at the Westby Center on the TU campus. We lusted after Judy Judy while she attended TU - too hip for Tulsa then. Really we first saw Gailard on GO FOR DOUGH WITH GARY CHEW on KOTV in walk-on bits (he was a camera op)before The Uncanny Camp Meeting & Film Festival was launched.

I worked Horn Bros. on KTUL (gulp) - I later was punished directing the Bob Mills Furniture Show on KGMC in OKC for that experience!

I did enjoy the live music on John Chick's Show as a camera op and later a trainee director cutting his teeth on this show. Favorite nightmare at KTUL? Doug Dodd running audio and me switching the first local airing of THE MUSIC MAN off network. Euell Golden - our film editor worked without a sound-reader for many years. Doug and I watched the clock tick down to the break - Euell cut the film just before Robert Preston broke into 76 TROMBONES.The phones blew off the walls that night.

KTUL also has the dubious distinction of airing GIMME SHELTER at 10am one Monday morning and pulling it off the air with 3 back-to-back episodes of Betty Boyd's PLAN FOR ACTION. I was on Sunday night film prep - we had no film sound reader then and I had seen some of the film in clips - not all the way thru. I don't think it was ever shown in Tulsa at a theater - just at TU on campus. I remembered some controversy about it and I left a message for GM Tom Goodgame but he was not in the next day. In a swing in daffy Leake TV management philosophy - Eric Nelson at sister station KATV in Little Rock had replaced Bob Hower (who was more astute on current films) as program director of both stations. Someone called Nelson after the first profanity started to air at 10am Tulsey time. They pulled 3 Betty Boyd shows on 2" tape to fill the time with and I almost lost my job.

Favorite people to work with? Uncle Zeb - plus most of the KTUL 70's vintage news folks. Bob Hower gave me my first job and we share the same birthdate. I worked at KTUL from '72-'76 then at KOTV for a year. Later worked in Amarillo and OKC TV so a lot of folks migrated down 66 to jobs there like Guy Atchley and Bill Tietgens who I went to TU with.

Miss a lot of the talent/behind the scenes folks now gone to the big control room/slash studio in the sky - John Chick, Cy Tuma, Findley "Huckleberry" West, Rudy Cohen, Saidie Adwon & Wayne Johnson.

I did Joe Krieger's show on 6 for a while - we called him "Joe Killer's Sportsman Show with Wanda" - never figured out why Joe's wife ever went fishing with him.

TULSANS WHO GOT AWAY and where they are:

John Hillis who formerly produced KOTV News at 6pm is here in DC as President of NewsChannel 8 - KTUL's sister operation on cable (the parent company also owns WJLA-TV here).

Larry Burnett - doing sports in LA.

Ken Broo anchors sports at WUSA.

Rhea Blakey here at WJLA part-time I guess - she was the weekend anchor now I see here sporadically.

Carlos Hernandez - of both KOTV and KTUL - is Chief Photographer at WUSA here and still one of the best shooters to ever come out of OK.

Stuart Odell of KOTV and KTUL is now a senior colorist at Video Post and Transfer in Dallas.

Mike Denny of KTUL - Betty Boyd's trio drummer later long time KTUL director - is still directing the Young & THe Restless or some big soap at CBS Studio City.

Don Lundy who directed at KTUL for years and climbed the management ladder across the country is now GM in "Little Tulsa" aka Bakersfield, CA at KERO-TV.

Well enough bsing - have to get back to work. Thanks for creating this site - it was long overdue.

If you can find it, get Betty Boyd's book of 15 years ago in paperback which is another great reference on TulseyTown TeeVee. Hell - you can get anything on Tulsa history at Steve's Sundries! I look forward to checking this site again!

What can I say? You, sir, are a gold mine of information. Thank you for sharing your wealth.

"Go For Dough"...it makes me laugh just remembering the existence of that show. How was it working on the Horn Bros. show? Or the Joe "Killer" show?

I will be looking for that Betty Boyd book.

---

Erick - 03/13/99 06:11:49
My Email:ericktul@webtv.net
Location: T-Town
How did you find TTM?: ESP


Comments:
This is on the same vein as Rick Green's comment on Mack Creager. Remember when Beth Rengel was fired from channel 8 for using an expletive on-air when she thought they were at a commercial? Apparently, there were problems with scripts and cameras th t night, and the frustration got to her. It always seemed like Beth had a little spunk in her.

Yes, both those firings seemed a bit harsh.

---

Rick Green - 03/12/99 23:30:10
My Email:keya_1@webtv.net
Location: Kiefer, OK


Comments:
Does any one remember about what year it was when sportscaster Mack Creager got fired for giving the finger to the cameraman, and didn't know the camera was still on. I remember being a little kid and laughing so hard I fell off the sofa. To this day, I think they were a little severe in the punishment they gave him. Anyone one know what became of Mack? Still love this site by the way.

5/10/2005: Gary Chew just told the full story here!

Mack Creager passed away in 2001.

---

Bill Hensley - 03/10/99 22:02:24
My URL:http://ourworld.compuserve.com/homepages/Bill_Hensley/
My Email:Bill.Hensley@trw.com
Location: OKC, OK
Favorite Tulsa TV show: Mr. Zing and Tuffy
Stupidest local commercial: John F. Lawhon or Evan-Mathis Furniture Revolution


Comments:
Very, very cool page! I grew up in Muskogee, and all of this really got some memories going. I got to be on Mr. Zing and Tuffy around 1967 or so, and froze up when they stuck the microphone in my face for the "What's your name and age?".

My Dad and I used to watch Mazeppa, and I especially remember that someone (from Fort Smith, I think) built an elaborate torture chamber model, complete with trap door onto knives, a rack, a gallows, etc. They sent it in to Mazeppa, and each "feature" wa demonstrated on the air.

We were a Channel 8 family, and I still have two "Gustys" that Don Woods would draw. One of them I even got to see drawn, and he said my name on the air! For a 10-year-or-so-old, it was very cool!

Cheers, Bill

Tuffy's head was huge! I wonder who was in there?

Hey, getting a Gusty is cool at any age!

---

Erick - 03/10/99 17:55:23
My Email:ericktul@webtv.net
Location: Tulsa


Comments:
What's up with former news personalities? Is there a clause or something which says they have to appear in stupid commercials? It was bad enough to have Bob Hower and Betty Boyd doing hearing aid commercials, but I just saw Don Woods' aluminum siding commercial. There's also Beth Rengel's car ads, Becky Dixon's carpet ads, and former OKC newsman George Tomek doing an insurance ad or some such. The worst of these was Gary Shore's carpet cleaning commercial. He's a horrible pitchman. By the way, I recently discovered former KTUL sportscaster Chris Lincoln doing a horse racing show on ESPN. Nice to see him keeping up with the craft.

---

Erick - 03/10/99 05:06:19
My Email:ericktul@webtv.net
Location: T-Town


Comments:
Mike and L. Mann-- Linda Sountrak actually started out in OKC at various radio stations which led to the Soundtrak job. That lasted until the early 90's when the company was bought out. I'm not sure about Tulsa, but in OKC, they were bought out by our good friend Mike Munda 's company, Sight & Sound/Cost Warehouse. Last I heard, Linda is doing voiceover and radio work somewhere east, possible Atlanta or D.C.

Thanks again, Erick. You know, as enthusiastic as she was, I thought she owned Soundtrak, but I guess not.

---

Matt Arbuckle - 03/10/99 04:46:18
My URL:http://www.webzone.net/kugala/singleparents
My Email:kugala@webzone.net
Location: Tulsa, OK
Favorite Tulsa TV show: Brainfade...sorry
Stupidest local commercial: Lanham Furniture


Comments:
I really enjoy your site. It is bringing back some great memories to this 38 year old Tulsan... thanks...

You're welcome. Lanham's Furniture...Wynn Lanham: "I'm the boss and the TV star."

---

L. Mann - 03/10/99 00:39:15
My Email:lainpdx@hotmail.com
Stupidest local commercial: Doc Rock & Linda Soundtrack


Comments:
I left Tulsa in 1987 so I'm a little out of touch but I do remember Doc and Linda. Does anyone else remember them? Are they still on the air? They had to be the most ridiculous commercials I've ever seen. Very little talent but a lot of heart.

Doc disappeared years ago, and I don't know what became of him. Linda Soundtrak, I think, moved to OKC...help me out here, Erick.

---

Erick - 03/07/99 05:04:30
My Email:ericktul@webtv.net
Location: Tulsa


Comments:
What happened to Sam Jones? I wish I knew. He's been gone since his last show left the low powered channel 25 in mid-'97. A friend of mine thought he heard Sam on a talk radio station in Little Rock about a year ago. Wish I knew where he was. It's hard to go to sleep without hearing "you are dismissed".

I remember what you're talking about, Mike. That movie special was called Trust House Theatre, and was hosted by a husband and wife team that owned, you guessed it, Trust House Jewelry. That show ran through the late 80's on various OKC stations, and they still occasionally buy time to host movies. Basically, it was a front to show their shiny jewelry. The movie was usually a cheesy war flick.

Thank YOU! I just love the internet; you can find out absolutely anything. Trust House Jewelry, it's coming back to me now. I didn't like the music much at the time, but now I do. I may give the old Trust House a call.

Maybe someone here will know about Sam Jones. I'll keep my ears open. I wish I'd gone down to the studio and watched one of his shows while he was on the air.

---

Robert A. Cook - 03/07/99 01:58:58
My URL:http://www.racook.com
My Email:robert@racook.com
Location: Midtown Tulsa
Favorite Tulsa TV show: "Uncanny Film Festival"
Stupidest local commercial: "Woodcraft" was a good suggestion--never trust an announcer with that little "Victor Kiam chuckle" in his voice!


Comments:
Der Webmeister wrote:
Anyone remember "Moments of Meditation" with Dr. Warren C. Hultgren at the end of KTUL's broadcast day?

Yep, but if I remember correctly, it was on at the very BEGINNING of the broadcast day. That was a time when I was still so young I woke up at 5:30 in the morning, looking forward to each day as a new adventure! Damn.... whatever happened to that feeling, anyway? ;-)


---

Erick - 03/06/99 19:23:33
My URL:http://www.angelfire.com/ok/weathercentral
My Email:ericktul@webtv.net
Location: Tulsa
Favorite Tulsa TV show: Any one of the 3 or 4 shows Sam Jones hosted.
Stupidest local commercial: Joe Marina Honda ads from the early '90s


Comments:
Being more or less a recent Tulsa transplant from OKC, my memories of Tulsa TV are somewhat limited. Hopefully, I can get religion here. =-)

Yes, well, Tulsa TV has had a lot of religion over the years. Anyone remember "Moments of Meditation" with Dr. Warren C. Hultgren at the end of KTUL's broadcast day? And how about the Indian, Dick West, who used sign language to portray the words of the Lord's Prayer sung by a choir at the end of the day?

What happened to Sam Jones, anyway?

Maybe you can help me...there was a late night movie show on OKC TV around 1974 that featured some tinkly cocktail music during breaks from the movie. It had a host and either a car dealer or jewelry store owner who was the sponsor. Do you remember that?
---

Gaye Brown - 03/06/99 03:42:43
Location: Tulsa
Favorite Tulsa TV show: Mr. Zing and Tuffy
Stupidest local commercial: Half price---Woodcraft!


Comments:
Keep up the good work!

That I will do, Ms. Brown!

Even the announcer seems to be aware that the Woodcraft ads are a mite irritating...but memorable, like a good ad should (be).

---

L. Carter - 02/17/99 01:16:43
My Email:larcarter@yahoo.com
Location: Memphis, TN
Favorite Tulsa TV show: Mazeppa


Comments:
Really enjoyed your site; my sisters and I used to sit up on Saturday nights in Fort Smith, Ark. watching some of these shows from Tulsa, Muskogee, and even Oklahoma City! Reception was not good, and often faded out for 15-20 minutes at a time, but we persevered. Remember this one:

Griffin's waffle syrup
Will make your family cheer up,
So always buy the Griffin's brand
(of waffle syrup!)
Always buy the Griffins brand.

I have also been looking for Sonik Re-Entry since around 1964 and -- thanks to you -- have now found it.

The gossip around Fort Smith was that Mazeppa was one of a pair of twins. Don't suppose there was any truth to that?? Maybe it started because of his versatility with all the roles he played. Keep up the good work.

LC, I'm glad I'm not the only one who has been obsessed by that music! Happy to be of service.

I guess if you have a glum family, the thing to do is get some Griffin's waffle syrup.

The Mazeppa twins? New one on me, but who knows...
---

Rick Green - 02/16/99 19:21:33
My Email:key_1@webtv.net
Location: Kiefer, OK
Favorite Tulsa TV show: Mazeppa
Stupidest local commercial: Doc Rock


Comments:
Hey, great site!! I was wondering if anyone remembers a show on Channel 8. It was set in a space ship, Boyce Lancaster was the captain, he had a male sidekick, and a girl crew member they always had to rescue named Wendy. It was the very early 60's, so I don't remember too much about it. Anyway, I love thinking back on all those good times. Keep up the good work.

Rick, that sounds really familiar, but I can't place it. Maybe others will remember. (Later: it was Captain Ben, starring Bob Jernigan)

---

Jack Diamond - 02/14/99 22:54:04
My URL:http://www.jackdiamond.com
My Email:jack@jackdiamond.com
Location: San Francisco Bay Area
Favorite Tulsa TV show: Fantastic Theater!


Comments:
Mike, you are awesome! Thank you:) Jack

Aw, shucks...

---

Robert A. Cook - 02/14/99 06:43:09
My URL:http://www.racook.com
My Email:racook@webzone.net
Location: Midtown Tulsa
Favorite Tulsa TV show: "Uncanny Film Festival"
Stupidest local commercial: This is recent, but it would have to be the Lynn Hickey Dodge commercials, featuring the obnoxious Doug Hickey.


Comments:
Your site is great! This early Tulsa TV stuff certainly brings back some wonderful old memories. I was on the "Big Bill" show myself when I was a little kid, and I appreciate you posting the picture of Oom-a-Gog on your page. I'd forgotten what that thing looked like!

I loved the old "Fantastic Theater." I remember the occasions when my parents let me stay up to watch it, and the old commercials for Cathey's Furniture that only ran late at night. The announcer's voice, saying, "Cathey's... eighth to ninth, on main," always made me feel warm and comfortable.

These days, eighth to ninth on main is only an empty lot. (sigh)

The only movie I can still recall watching on "Fantastic Theater" was something called "The Giant Leech." It scared me so badly that I kept my eyes closed through most of it, which probably only made things worse. It would probably look pretty friggin' stupid to me now.

Thanks for this opportunity to ramble on, and thanks for resurrecting some great memories!

Robert,

Thanks a lot for your kind comments on the web page, and your contribution to the guestbook.

I remember hearing that Fantastic Theater music coming on when I was in bed as a kid, and it didn't help me sleep. "The Giant Leech" would have scared the hell out of me, too.

Yeah, "Cathey's... eighth to ninth, on main". That's a good one. I'll have to start a separate page for just commercials.

---

JL - 02/14/99 03:46:08


Comments:
Speaking of Old Tulsa T.V....how about Mr. Zing and Tuffy.....lol...Many hours were spend watching John Chick as Mr. Zing. Whoa...this is reminding me of my age. =)

---

Rob Brookey - 02/11/99 01:21:37
My Email:Robbzilla@hotmail.com
Location: Tulsa
Favorite Tulsa TV show: Mazeppa
Stupidest local commercial: Soundtrack with Linda/Sluggo


Comments:
I loved Mazeppa- I wished they would play reruns of the show. I remember when I was in the the 9th grade in '71 how great Gailard Sartain or G. Ailard S. Artain was. I loved his Coach Chuck character because he reminded of the Henryetta High School coach at the time. The movies were bad but the skits were great. Sherman Oaks and Teddy Jack were cool also. Thanks for the web page.

---

Robert Stemmons The Whistler - 02/06/99 13:53:10
My Email:whistling@aol.com
Location: Jenks (Tulsa Native)
Favorite Tulsa TV show: Mazeppa
Stupidest local commercial: Horn Brothers Fire Sale!


Comments:
I'll be back!

It finally hit me...you are the famous whistler I read about in the newspaper. I just learned how to whistle in the last couple of years.

---

Steve L - 02/03/99 06:40:42
My Email:automanic@aol.com
Location: Mannford


Comments:
Shock Theatre was on KOTV in the late 50's, if memory serves. It came on at midnight on Saturday night, and featured sci-fi movies from the 40's and 50's. Lots of old horror movies.

---

Mike Ransom - 01/30/99 01:29:35
Location: Tulsa
Favorite Tulsa TV show: Sun Up with Bill Hyden
Stupidest local commercial: The competition keeps chipping away at super-cool John Mount


Comments:
Michael A. Clem wrote: "I was on Uncle Zeb's Cartoon Camp, too, when I was about four or five. It was a real thrill when I finally got to walk over the bridge, but I don't remember what I said into the microphone. I don't remember much about King Lionel, but I always liked to catch the weather on Channel 8 and see the Gusty cartoon drawn by the weatherman, uhh, what was his name?"

That would be Don Woods. My dad told me that early in Don's career at KTUL, he regularly did a commercial for iced tea that called for him to show how good the tea was by drinking some and then smiling. On one occasion, a stagehand put salt instead of sugar into Don's tea. He took a big swig on the air, grimaced and then blurted, "Who put the salt in my tea??!!", which started the crew guffawing.

Ten to one, what you said on Uncle Zeb was, "I wanna say 'hi' to my mommy, my daddy, and everyone I know."

---

Joe Dickens - 01/29/99 15:40:31
My Email:jdickens@gcipoa.gannett.com
Location: Austin, TX
Favorite Tulsa TV show: Mazeppa...
Stupidest local commercial: "If You Didn't Buy at Reeves You Paid Too Much"(honk, honk)


Comments:
Just to let you know that the "we didn't throw any snowballs, Officer" line came from an experience I had had a few years earlier that involved being questioned at length by the Vinita police about throwing snowballs and gravel at cars...we stuck to our story.

Also a reminder that Gary Busey got his start on that show...Roy Clark and Leon Russell were sometime guests...and you didn't mention that Fantastic Theater started with: Good evening, mein freunde (sp?), welcome to Fantastic Theater...also, does anybody know the origin of the Mazeppa closing theme, "Why Can't This Night Go On Forever?"

Swell site. Luv, Joe

Thanks, Joe, for reminding me of the closing theme from the Mazeppa show. Joe probably did the driving (in a Rambler station wagon) when we went down to be on the Mazeppa show. He is also a noted songwriter and performer in Austin. Also thanks for reminding me of that "Good evening, meine freunde" line from Peter Hardt.

---

Steve L. - 01/26/99 05:03:58
My Email:automanic@aol.com
Location: Mannford


Comments:
I am a little older than most of the people posting here so my early memories of Tulsa TV will be a bit farther back than some of you. Does anyone remember" Shock Theatre" with Egor (someone in a rubber mask) Leroy McGuirk's wrestling on Sat.afternoon was a come on to get people out to the Junior Arena ,at the FairGrounds,for Sunday night wrestling. That's about all I can come up with right now but I'm sure more will come as soon as I finish.

When was "Shock Theatre" on, and which station?

I do remember Leroy McGuirk. He was a wrestler, but became blind and had the local wrestling franchise. There was a wrestling show on KOTV, I believe. Do you remember people like "The Great Bolo" or Danny Hodge (who is still around Tulsa)? I think McGuirk s interests were taken over by Cowboy Bill Watts, and ultimately absorbed by WCW. It really looked tacky compared with today's high budget spectaculars, but was fun to watch.

Hey, folks, I have discovered what the "Fantastic Theater" music was! When I get a copy of the music (soon), I will put a sample on the website.

---

Mike Ransom - 01/22/99 19:38:26
Location: Tulsa
Favorite Tulsa TV show: The old late night show that featured psychedelic patterns along with music like Yes' "Close to the Edge" (MAINTAIN).
Stupidest local commercial: Jude and Jody Furniture: " 'Cuz we love folks!"


Comments:
It's not that relevant to this site, but I have a collection of those liquor-by-the-wink membership cards that you used to get at clubs here in Oklahoma in the 70s and 80s. I think I will create a subpage with scans of these...as soon as I get them to my girlfriend's scanner, along with pictures actually relevant to this site.

---

Karl Soliday - 12/29/98 23:14:45
My URL:http://members.cox.net/mauikarl (URL updated 12/17/2005)
Location: Owasso, Oklahoma


Comments:
Favorite Tulsa TV Commercial: "Chick Don't Care" and they would take a baseball bat and bust the windshield out of a new Buick. 1956 or 57?

Karl, that commercial must have been in the 60s, because I remember it. Someone on the ok.tulsa.general newsgroup mentioned this commercial as well. There's nothing like viewing property damage to make you want to purchase a product. I guess that's why there is a current commercial in which a washer is dropped off the top of a building.

---
Back to main