Tulsa/OKC TV coffee coda

(from Guestbook 125) The webmaster said:
A commercial filmed for OKC-based Cain's in the early 70s was set in a nightclub, where a confident Vic Damone/Tony Bennett-type singer strolled among the tables as he performed this lush ballad:

Let your life slow down
Take a real look around
Have a cup of Cain's
For the flavor in moments you'll savor

And then give yourself some time
For something easy on your mind
With a cup of Cain's;
It's a coffee blend you'll want
Again and again.


While singing and strolling, the coffee-loving crooner nodded familiarly at one table, making a horizontal circular gesture to the waiter, indicating they should receive a round of coffee on the house.
In the final shot, the camera changed focus to follow the gaze of the now thoughtful-appearing entertainer in the background (his hand mike at rest) to a steaming cup of Cain's coffee resting on a stool in the foreground.
Lacking access to the original, the webmaster vocally "rendered" the tune from memory in one take, a cappella, on a WAV file for this site. David Bagsby picked it up, retrofitted it with a supportive piano part, and added it to his "Tulsa Project" CD, "Led Zebblin: Outhouses of the Holy".
Here, as an accompaniment to your own coffee-swigging, is our version of the Cain's Coffee ballad on MP3.
---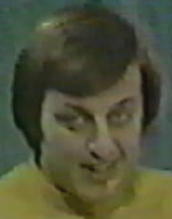 11/10/2005: Discovered! The original Cain's Coffee ballad on MP3. The original Cain's Coffee audio can be heard on this spoof, lip-synced by Tulsa TV newsman John Hudson in 1974. Interesting how time altered my own 30-year-old memory of the tune; I'll call it artistic license.
Thanks to Wayne McCombs for the clip, titled "Hud Drinks Mud". Wayne says: "Back in the old days of local TV, the stations would sign off the air about 1:30 or 2:00 am. Sometimes after sign-off, the late shift staff would be working on production for commercials or station promotional announcements. Well, one night in 1974 at Channel 2, John Hudson did his version of the Cain's coffee commercial.
"The spot was recorded on the set of the Joe Krieger fishing show in the Channel 2 studios. Note the pants John was wearing."